A beautiful
glass

for buildings without any compromise.
VISTASAFE™ is a series of innovative EVA copolymer-base interlayers developed by TPI All Seasons specifically for the laminated glass industry. The materials are made of world-class quality EVA resins and are formulated for ease in processability, excellent optical properties, and long-term stability.
Durability of VISTASAFE™ : Due to its outstanding adhesive strength to glass, excellent durability against heat, noise pollution, moisture, and UV radiation, VISTASAFE™ offers superior durability and safety aspects to withstand severe environment or outdoor exposure (EN ISO 12543-4).
Impact resistance: VISTASAFE™ interlayer shows excellent resistance to impact in accordance with DIN EN356 and EN12600.

Glass for building
TIS 1222-2539



Durability test
EN ISO 12543-4
Sound Insulation test
EN ISO 10140-2
EN ISO 717-1

Solar protect
ISO 9050
Fire resistance
UL 94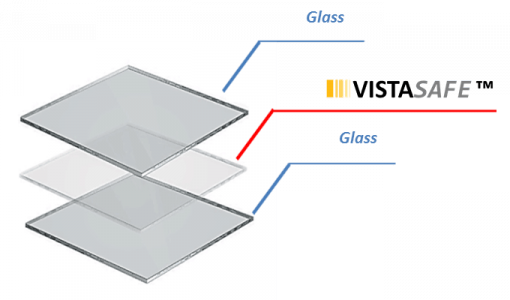 VS102-Super Clear: This product offers high clarity, excellent adhesive strength, and long-term durability. It has good fluidity and works well with patterned glass and fabric insert applications. It is suitable for both interior and exterior use.
VS103-Ultra Clear: This product is specially designed for high performance architectural applications, with superior adhesive, cohesive, and tensile strengths. It also has excellent optical properties and offers ease of operation, allowing for lower edge flow-out. It is suitable for both interior and exterior use.
VS301-Polar Frost: This range of white EVA provides total privacy and enhanced opacity for laminated glass. It can be mixed with other "VS" ranges to produce a wide spectrum of colors and shades to match different specifications.
VS401-Arctic White: This translucent or diffused EVA creates a satin or sandblasted look for laminated glass. The more layers used, the more diffused the outcome. This range can also be mixed with other "VS" ranges to create a variety of colors and shades.